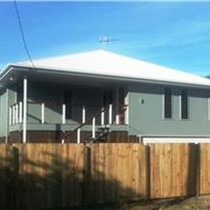 When Katrina and I were looking to construct a dwelling on the quarter acre block of land that we acquired in late 2010 it was definitely not going be a straight forward task. Our Block at Burnett Heads is in a non-flood zone, however the floor height of a dwelling had to be a certain amount therefore a house on a slab was not an option.
Once the paperwork was out of the way we were able to relax and receive updates and photos of every stage of the building process. This was REALLY IMPORTANT TO US AS WE WERE SITTING IN SYDNEY WHILST THE HOME WAS BEING BUILT…The quality of workmanship with their Local Tradesmen showed through and all spoke highly of Kleidon Master Built Homes and that they are good to do work for. There you go to have a reference like that, a non - franchise builder in town hiring town people using town supplies, this gave us confidence.
We couldn't believe how timely the building stages were done even after the town copped a tornado, and the worst floods on record. It was business as usual till completion. Katrina and I would encourage those looking at building to definitely consider Kleidon Master Built Homes first as it will save you a lot of time, first in best dressed to secure your spot on their schedule.