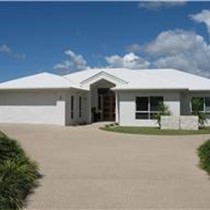 Being an experienced Real Estate agent in the Bundaberg area I come in to contact with people on a daily basis that have made the decision to build their dream home at some point in time. I hear all of the stories, the good and the bad.
When it came time to build my dream home I asked clients and the people that I had come in to contact with as to who they have used and who they would recommend. Looking at the finished product of homes Brett has built and talking to the people that have traveled the road before me of engaging a builder I approached Brett Kleidon for a quote and a timeframe to complete the home. I found Brett's price and timeframe to be excellent.
As it turned out the sub-division that I had done that the home was to be built on was delayed causing Brett a few headaches. Building costs can go up over time but to Brett's credit he honored the quote despite the job being delayed due to the extension of time it took for my block to be created which was beyond my or Brett's control. Brett started the job as soon as the block was created and completed the home within the timeframe that he said. Brett's follow up service has been good and 3 years down the track I am still happy that I chose Kleidon Masterbuilt Homes to build my home. I had no hidden surprises, extra costs or unexpected complications.