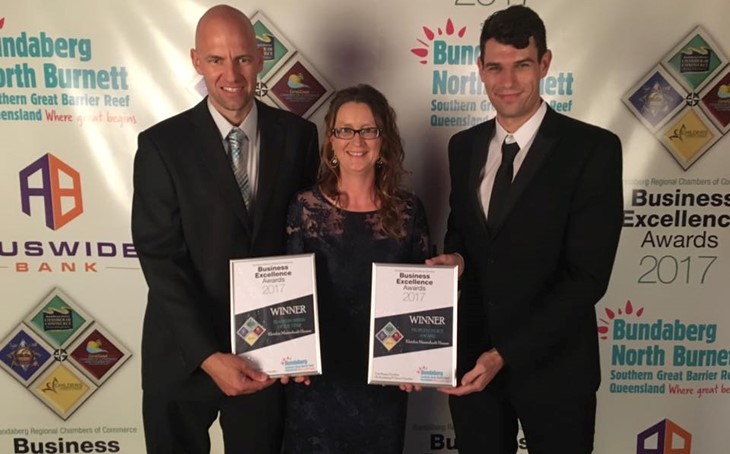 Bundaberg Chamber of Commerce Business Excellence Awards 2017
We were recently nominated and successfully won Trade Business of the Year and People's Choice awards at the 2017 Bundaberg Chamber of Commerce Business Excellence Awards.
After receiving our nomination, it wasn't just sit back and hope for the best- we set to work on our application, proving why we deserved to win Trade Business of the Year. Numerous amounts of hours went in to perfecting the application, and ensuring we included anything that would appeal to the judges. The hard work seemed to pay off!
For the first time, we attended the awards ceremony at the Bundaberg Civic Centre, a lovely evening with a beautiful meal and fantastic entertainment, plus plenty of mingling with fellow attendees and nominated businesses.
We were overwhelmed with the support we received for the People's Choice award, we thought we may be a good contender, but we were ecstatic to hear our name called as the winner.
After being in the local building and construction industry for so long, we feel it is a testament to our hard work and top quality homes that enable us to still win such prestigious awards, especially within our local community.
Over the past 12 months, we have rebranded our company and expanded our marketing vision, begun construction on two brand new display homes in the Bundaberg region, as well as continuing to employ significant amounts of local tradespeople and staff. In April this year, we assisted a fantastic cause, Chickens to Love, to achieve their vision by designing and constructing a bespoke chicken coop for everyone at Community Lifestyle Support to enjoy. We believe all of these factors played a part in our success of being named Trade Business of the Year.
We would like to take an opportunity to give our sincerest gratitude to everyone who voted for us as People's Choice, it would not have been made possible without every single one of our supporters. Kleidon Masterbuilt Homes will continue to thrive and as always, build top quality homes, every time.