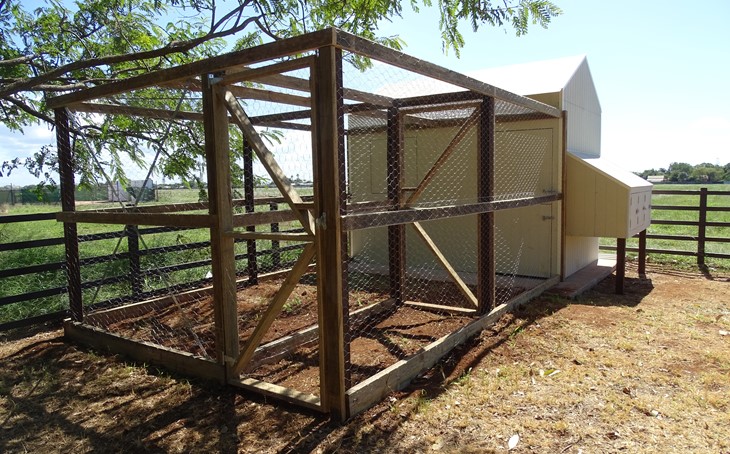 Chickens to Love- Companion Chickens
HELPING A FANTASTIC CAUSE
In April, we came across a fantastic cause that we couldn't ignore. A young girl named Summer, who has Autism Spectrum Disorder, along with her mum Cynthia had founded Chickens to Love-Companion Chickens, an organisation with a vision to socialise chickens and make them companions to people in need.
Summer and Cynthia had previously been running Chickens to Love from their backyard, and had visions to expand, so when Summer was asked what her dream chicken coop would be, she answered that she would want a big chicken coop at Community Lifestyle Support so that everyone could enjoy it.
This is where we saw the opportunity to assist a fantastic cause, by designing and constructing a dream coop to support Summer's and Chickens to Love's vision.
PUTTING THE DREAM TOGETHER
After some research and liaising with Cynthia and Community Lifestyle Support, our team designed a custom coop, and began construction with materials either donated from ourselves and an array of local businesses, all without Summer having any knowledge of the project. The generosity of amazing local businesses and community members made this whole venture possible.
After designing and gathering supplies, our talented team of carpenters worked tirelessly for two days to construct the coop in time for the surprise reveal Cynthia had planned, with the community coming together to support Summer in the reveal.
Summer was absolutely over the moon with her new chicken coop, that was accompanied by a miniature horse stable next to it, in support of the brilliant work Community Lifestyle Support do.
SUMMER'S GRATITUDE
Summer got the surprise of her life when the brand new chicken coop was revealed to her.
The local news and newspaper attended and gave Summer and Chickens to Love some fantastic media coverage, which can only be beneficial to her brilliant cause.
Summer made a lovely painting to present to our Building Consultant and Office Manager, Melissa, who orchestrated the whole project, to show her sincere gratitude for our contribution to her dream.
Check out Chicken to Loves Facebook page - facebook.com/Chickens2love/
A special shout out to the following businesses that generously donated or assisted with Summer's project;
Bundaberg Betta Home Living
Suresafe Pest Management
Bundaberg Wholesale Palms and Plants
Bundaberg Frames and Trusses
Form Direct
Norco Rural
Bunnings Bundaberg