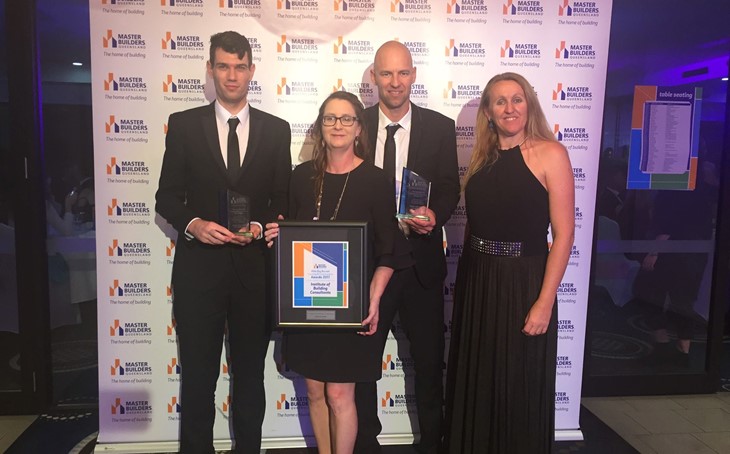 Wide Bay Burnett Master Builders Awards 2017
Hard work really does pay off.
Our fantastic team at Kleidon Masterbuilt Homes have successfully taken home more awards at this year's Wide Bay Burnett Master Builders Awards.
Out of four Housing Award nominations, we received awards for Medium Density up to 3 storeys- over 5 dwellings or multiple Class 1 Dwellings for our Capri Villas Project, Lifestyle Housing for High Care Needs, Disabled and Senior for our Marks Street Project. Congratulations to our fantastic team of carpenters, office staff, suppliers and sub-contractors who make all of our award wins possible, we must be doing something right to continually win year after year!
But there's one award in particular that deserves a special mention.
Melissa Steele, our Office Manager and Building Consultant/Sales Agent deservingly took home the Institute of Building Consultants award for the first time.
Melissa continues to go from strength to strength in the building and construction industry, being a finalist in the CSQ Women in Building awards in late 2016, and now receiving another coveted award for her hard work and dedication.
Melissa is a fantastic role model for other women in the industry by actively continuing to further her knowledge, in particular, she is currently studying a Certificate 4 in Building & Construction. We are extremely lucky to have her as a vital part of our KMBH team.
Although she has been in the industry for 24 years, Melissa has only branched out in to Building Consultancy in the past few years. When the opportunity arose, Melissa grabbed it with both hands and has successfully integrated the role with her Office Manager position. Working with clients comes naturally to Melissa, she builds a fantastic rapport with every client she meets, which is possibly what has helped Kleidon Masterbuilt Homes' continued success.
Melissa is a passionate advocate for Women in Building, and hopes to see women succeeding in the industry for many years to come.