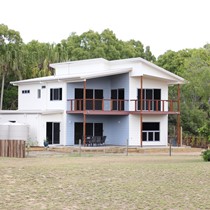 Having already built once before with Kleidon Masterbuilt Homes, we were expecting the process to be smooth but were surprised that they exceeded our expectations yet again.
During the initial sales process Melissa was friendly and approachable. We provided her with our wish list of features and she was able to work out a package that met all the items and was inside our budget. We provided Melissa with a rough idea of what we wanted with regards to floor plan and exterior look and Scott and Melissa were able to work with us on that to come up with a beautiful and unique design.
Prior to the kickoff we sat down with Adam and come up with our colour choices and material selections. From the first day on site it was a smooth process. Adam and his team built it in such a short turn around and at such a low stress level throughout the whole project. We lived near the site and we were checking on it everyday. Watching it come together so fast was great fun to see and such an exciting experience for the whole family.
Any queries we had throughout the process were dealt with in a prompt and efficient manner by Melissa, Adam and Sharon. We both work fulltime and so it was great to be able to communicate with them by email for non critical items and we had regular phone calls for anything more pressing. The team at Kleidons were always responsive and friendly which made the process so stress free. It was great to see the designs Scott and Melissa developed for us come to life. We moved in early even though we had some wet weather. This was down to the meticulous planning from Adam. At the start of the build he shared his weekly plan and adapted it as things cropped up.
We were happy that Kleidons worked with local trades and suppliers thus kept the economic benefit in the Bundaberg region. All of the trades that they chose to work on the house were consummate professionals, committed to finishes that were second to none.
Craig at Coral Coast Cabinets did a fabulous job on our kitchen again.
Shaun from Aslett Electrical was so helpful, meeting us on site to go over the lighting and electrical plan and provided recommendations regards to exterior lighting.
Tiler Daniel did a great job, two floors of tiling with a beautiful finish throughout.
As with the previous build plumber Nathan met us on site to go through the designs, nothing was too much trouble.
The painters did a great job too, being two story, it was always going to be difficult to paint but they made the effort to make sure the finishes were spot on.
We wouldn't hesitate to recommend Kleidon Masterbuilt Homes to build your dream home.
Thanks again Adam, Melissa and the team.