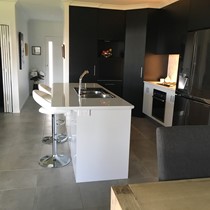 We would like to give our appreciation to all the team at KleidonMasterbuilt Homes. 
Peter and I decided to move from Mudgee NSW to live in Bargara Qld in last year.  We had enough of the cold winters and sort the year round warmer climate of Queensland.  We decided to make Bargara home.  We were unsure if we would buy or build a house, so we set out looking at existing homes in the area and then having a look at builders' display homes.  While all the display homes we went through were great we were especially taken by the standard of finishes offered in the Kleidon homes.  We realise that all display homes are not always standard finishes so we had to distinguish what was standard and what was at an extra cost.  The sales team at the KleidonMasterbuilt display home at Bargara Beach Estate, in particular Ken and Scott, were very informative, friendly and very approachable.  We did not want a top of the market home.  There being only the two of us, all we needed was a three bedroom home with flowing, open living areas with a large alfresco for outdoor enjoyment.  After a few minor modifications to the standard plan we were able to achieve our dream home.  We had a budget we had to keep within and were able come in with the final figure being very close to our budget.  We couldn't be happier with Adam and his team of contractors, all of whom were helpful and informative.  We were able to visit the site as often as we liked to keep abreast of the progress, even after lock-up stage, Adam was more than accommodating with us going through the house at any time we agreed upon. 
At the time we were living in a caravan so it was important to us to get the house built within the time frame agreed upon.  In this regard the build was finished nearly 2 weeks ahead of schedule with no compromise to the quality of the finish. 
To everyone involved in the build we cannot thank you enough – the house and the grounds are fabulous.