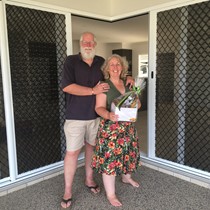 When we walked into our new Kleidon home we were congratulating ourselves on what great decisions we had made, when it occurred to us the real great decision was our choice of builder.
From the first day the team at Kleidon's went out of their way to make this a wonderful experience.
We flew in from interstate with a few ideas in mind and a copy of a Kleidon plan.
One week later we had finalised all the changes to turn this into our dream home and had finalised all the selections with great advice from Melissa, Emma, Sharon, Scott, and their helpful suppliers. A special thanks to Adam for his tireless commitment to our dream.
Our whole build was done while we were on the other side of the country but the team kept us updated with photos and progress reports and left us feeling at ease that our build was in safe hands.
When we arrived for final handover the house greatly exceeded our expectations with the care and attention to detail shown by Adam and all the trades.
Thank you all for a wonderful experience.